DOWNSTREAM PROCESSING
Beginning with harvest of material from a bioreactor, downstream processing removes or reduces contaminants to acceptable levels through several steps that typically include centrifugation, filtration, and/or chromatographic technologies. While upstream and downstream technologies continuously improve, we still often hear about a "capacity mismatch" between upstream and downstream processes. Which downstream technologies are helping to put this talk to rest?
Cast your vote! Rank the four downstream finalist articles, and tell us which article deserves to be named Downstream Readers' Choice Winner.
Follow the links to read the articles in their entirety. Then complete the survey to rank the articles based on:
how innovative / cutting-edge they are
how presentable / trustworthy they are
how applicable / helpful they are.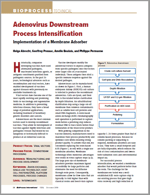 "Adenovirus Downstream Process Intensification: Implementation of a Membrane Adsorber," by Helge Abrecht, Geoffrey Pressac, Amélie Boulais, and Philippe Permanne (Web / PDF)
Abrecht's article assesses three membrane adsorbers from three different manufacturers under comparable conditions for load, capacity, and elution.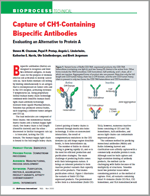 "Capture of CH1-Containing Bispecific Antibodies: Evaluating an Alternative to Protein A," by Steven M. Chamow, Angela Linderholm, Katherine E. Harris, Ute Schellenberger, Brett Jorgensen and Payal P. Pratap (Web / PDF)
Chamow's team explores how the growing use of therapeutic bispecific antibodies offers new opportunities to design downstream processes around alternative affinity-capture ligands.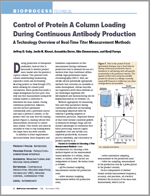 "Control of Protein A Column Loading During Continuous Antibody Production: A Technology Overview of Real-Time Titer Measurement Methods," by Jeffrey D. Goby, Joelle N. Khouri, Anoushka Durve, Eike Zimmermann and Kenji Furuya (Web / PDF)
This technology review explores ways to control protein A column loading by using real-time titer measurement during continuous antibody production.
"Viral Nanofilter Integrity: Using Variable-Pathlength UV-Vis Spectroscopy for the Gold Nanoparticle Test," by Zhen Tong, Juma Bridgewater and Nuria de Mas (Web / PDF)
Tong et al. detail their application of the gold particle test (GPT) to postuse viral nanofilter integrity testing for cellulose filters.