MANUFACTURING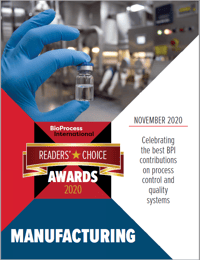 Closed systems and single-use technologies, continuous processing and process analysis are transforming biopharmaceutical manufacture. This year's Readers' Choice nominees and other top articles in manufacturing emphasize such advances as well as the growing importance of automation and data management, vaccines and single-use technologies, virus safety, and platform approaches for advanced therapy manufacture.
The Nominees: In BPI's September 2019 issue, two authors from Sanofi Pasteur reviewed constraints and complexities in the vaccine industry, specifically those related to product development and manufacture. In a prescient discussion, they describe evolution in bioprocess and analytics innovations and technologies that can help vaccine developers overcome barriers to success. The article's "future outlook" has been tested by the COVID-19 pandemic.
In our November–December 2019 issue, authors from Merck and MilliporeSigma presented the findings of a team of industry automation experts who are sharing their experiences within the BioPhorum Operations Group's Technology Roadmapping collaboration to test new automation methods for single-use technologies. The goal is to move the industry from a state of unique and custom software development to a reusable, standardized approach that enables rapid integration of intelligent process skids.
In BPI's January–February 2020 issue, two authors from GlaxoSmithKline put the otherwise daunting output of data from biopharmaceutical research and development into perspective. They go on to show that, as in many other areas of life, quality is more important than quantity when it comes to bioprocess information.
And in BPI's March 2020 issue, a writer from Bayer Healthcare elaborates a timely response plan for viral contamination incidents in bioproduction facilities.
Our congratulations go out to all the nominees this year — and especially to the winner and runners-up highlighted herein!
Fill out the form below to read the winning article, industry commentary, and more.