Figure Out Any Particle with Automated Counting, Sizing, Morphology, and Identification Using the Hound
Please join us for this free, live Ask the Expert webcast.
Just fill out the form below to register.
Presenter: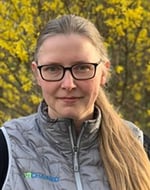 Lisa Krapf

Field Automation Scientist
Unchained Labs
Lisa Krapf is a field automation scientist at Unchained Labs. She graduated with a degree in physics and has five years of experience working on particle characterization using microscopic and spectroscopic tools in different application areas with a focus on the pharmaceutical industry.