Innovation in Tangential Flow Filtration:
Holder-Less Self-Contained Flat
Sheet Cassette Device
Presenter: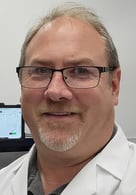 Mark A. Perreault

Director, Research and Development,
Repligen
Mark Perreault is the director of research & development at Repligen Corporation, a bioprocessing focused life sciences company bringing expertise and innovation to customers since 1981. Mark earned his bachelor's degree in chemistry at UMass Lowell and has 30 years of experience in the biopharmaceutical industry with a focus on membranes and tangential flow filtration. He had many opportunities to both learn and share knowledge about filtration, from both the perspective of a membrane supplier as well as an end user.
---
Click the link below to view the Dare to Innovate: Across the Bioprocess Workflow series page.