---

This webcast can now be viewed on-demand: Click here.
---
Accelerating mRNA-Based Therapy Development with Scalable Purification of In Vitro Transcribed mRNA
Presenter: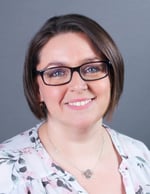 Kelly Flook
Senior Product Manager, Purification Products
Thermo Fisher Scientific
Kelly Flook is Senior Product Manager for purification products within the Bioproduction Division at Thermo Fisher Scientific. Kelly has a PhD in polymer and analytical chemistry from the University of Durham, UK. During her 15 years at Thermo Fisher, Kelly has gained extensive experience in product development across all scales of chromatography and related biological workflows. Kelly has a strong expertise in bead technology and bioseparations. Drawing from a diverse technical background, in her current role Kelly is responsible for new product development and commercialization of solutions across the downstream workflow.