Robust Stable Line Platform for Biologics Development
Please join us for this Ask the Expert webcast.
Just fill out the form below to register.
Presenters: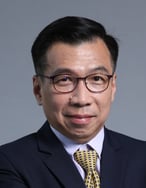 Dr. Sean Liour
Vice President for Project Management, GenScript ProBio
Dr. Liour is the VP for Project Management at GenScript ProBio and has 10 years of experience in biologics development. He has worked at Fountain Biopharma, leading projects to preclinical CMC, PK/PD study, FDA IND filing, and clinical phases I and II. He also worked at Henlius in 2016, leading development, IND filing, and NDA filing.