The Way Forward in Therapeutic
Antibody Purification
Please join us for this free, live Ask the Expert webcast.
Just fill out the form below to register.
Presenter: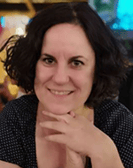 Dr. Anna Le Bris
Senior Application Specialist and Trainer
Thermo Fisher
Dr. Anna Le Bris is a Senior Application Specialist and Trainer for purification within the Bioproduction Division at Thermo Fisher Scientific.
Anna holds a PhD in Protein Biochemistry from the Max-Planck-Institute of Biochemistry in Munich (2007) where she focused on the production and purification of proteins. She has 20 years of experience in the chromatography field, both academic and industrial, 10 years of which have been at Thermo Fisher Scientific.

Her technical expertise includes consultancy on purification and chromatography of bioprocess molecules, ranging from protocol development/optimization to packing support. In her current role, Anna provides external trainings, seminars, consulting, and technical support in Europe, Russia, and Turkey for the POROS and CaptureSelect Chromatography product lines. Additionally, she is in charge of internal education programs for downstream processing (DSP) application aspects and soft skills training, helping the support team to collaborate with customers and support their bioprocess applications.