CELL AND GENE THERAPIES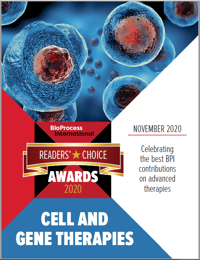 Cell and gene therapies are reshaping all aspects of the bioprocess industry to such an extent that they have earned their own, product-focused category in the 2020 BPI Readers' Choice Awards. The authors of the nominated articles address key manufacturing and quality areas for these advanced therapies and how to address common process challenges.
The Nominees: In BPI's final issue of 2019, a team from the Latham Biopharm Group predicts — even before the onset of the SARS-CoV-2 pandemic — that projected demand for viral vector manufacturing will surpass available CDMO capacity in 2020.
In BPI's first Featured Report of 2020, a former FDA reviewer offers his rationale for why there is no need to develop separate good manufacturing practices (GMPs) or chemistry, manufacturing, and controls (CMC) requirements for cell and gene therapy products.
In May 2020, writers from AveriCELL, Sana Biotechnology, InMuneBio, the University of Birmingham (UK), and Michael Smith Laboratories followed on that regulatory discussion with explanation of how purposeful refinement of quality by design (QbD) tenets could offer the same advantages to advanced therapies that it has to other biological products.
And in an article from June 2020, two writers from Applied Genetic Technologies Corporation (AGTC) explore how herpes-assisted vector expansion (HAVE) processes could offer several clinical, regulatory, and production advantages over other methods for manufacturing adenoassociated viral (AAV) vectors.
BPI's congratulations go out to all the nominees this year — and especially to the winner.
Fill out the form below to read the winning article, industry commentary, and more.