UPSTREAM PROCESSING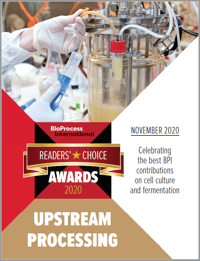 Perennial concerns about optimizing protein-expression systems, improving bioreactor designs, and increasing yields continue to dominate discussions about upstream production. However, the nominees for this year's upstream Readers' Choice Award suggest that the biopharmaceutical industry sits on the cusp of several important transitions.
The Nominees: Two of those articles indicate a shift in the industry's valuation of serum-supplemented cell culture media. In September 2019, a former chair of the International Serum Industry Association enumerated challenges facing serum suppliers amid continued concerns about adventitious agents in fetal bovine serum and subsequent pushes toward chemically defined media in biopharmaceutical production. That same issue also included a paper from scientists at Menarini Biotech and Thermo Fisher Scientific about streamlining protocols for adapting cell lines from serum-supplemented conditions to chemically defined media for suspension culture.
In an October 2019 submission, writers from the Abbot Diagnostics Division called attention to the industry's need for effective large-volume single-use systems for fermentation. To that end, their article compares the performance of two recently launched single-use options against that of a conventional 15-L steam/sterilize-in-place unit.
A fourth article, from BPI's June 2020 issue, explores chemistry, manufacturing, and controls concerns for optimizing cell line selection. The authors focus especially on emerging strategies for leveraging early stage pool studies to develop processes and assays.
BPI's congratulations go out to all the nominees this year — and especially to the winner.
Fill out the form below to read the winning article, industry commentary, and more.